Industrial Sewage Tank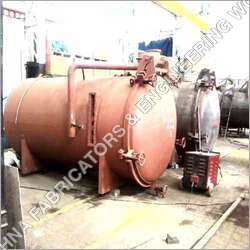 Industrial Sewage Tank
Product Description
Since our establishment, we are engaged in manufacturing and supplying high quality Industrial Sewage Tank. This tank is widely used in various industrial applications for storing liquids and compressed gases in a safe manner. The tank provided by us is manufactured by highly experienced professionals using top grade mild steel and advanced technology. Moreover, we are offering this Industrial Sewage Tank in various capacities at market leading prices.

Features:

Robust construction
Leak proof
Enhanced durability
Less maintenance
Our industrial sewage tank is also known as septic tank, which is a prime component of a wastewater system, a compact scale effluent system usual in zones that require association with primary sewage channels offered by industries. Septic implies to the anaerobic micro-bacterial condition that generates in the tank that mineralizes or deteriorates the waste released into it. Industrial sewage tank, which can be installed in places where sewerage system is yet to be enhanced, enable treat domestic as well as commercial wastewater and preserve the water condition.
In addition, our company provides a broad lineup of items, comprising its exclusive layer detachment systems (stable and advanced treatment) and liquidized bed system (extent minimization), to convey water treatment systems that fulfill demanded treatment levels, purposes and applications. Our industrial sewage tank can be inherent a short run and provided with magnificent water treatment execution, conveying very viable solutions to hospitals, housing development and factories, zones in scantily populated locales specifically.
Origins of industrial wastewater:
Complex Natural Chemicals Industry
Power Plants
Sustenance Industry
Quarries And Mines
Atomic Industry
Paper And Pulp Industry
Industrial Oil Tainting
Wool Processing And Water Treatment
Costs Contemplations:
Construction expenses of industrial wastewater tanks are generally low contrasted with other water grounded systems. But, they are a highly costly than for composting or dry toilets and probably not going to be reasonable for poorer individuals in society. They additionally require adequate funneled water to flush every of the squanders through the drains as well as mechanical or manual de-sludging should be done intermittently.