Construction Shoring Systems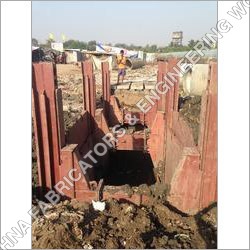 Construction Shoring Systems
Product Description
We are counted amongst the leading manufacturers and suppliers of excellent quality Construction Shoring Systems that are widely used for various shoring applications for supporting buildings, trenches, etc. Due to their fine finish and durability, these systems are widely demanded among our patrons. At our advanced manufacturing unit, these systems are manufactured by making use of superior quality components and modern technology. To ensure their flawlessness, these Construction Shoring Systems are stringently checked on different parameters of quality.
Features:
Perfect finish
Strong construction
Easy assembly
Resistant to corrosion
Specifications:
Construction Shoring System Is The Development Of A Impermanent Structure To Bolster Provisionally An Unprotected Structure. These Bolster Dividers Along The Side. They Can Be Utilized Under The Accompanying Conditions:
When Dividers Swell Out
When Dividers Split Because Of Unequal Arrangement Of Establishment As Well As Repairs Are To Be Completed To The Broken Divider.
When A Nearby Structure Requires Pulling Down.
When Apertures Are To Be Recently Made Or Expanded In A Wall.
Construction Shoring System Has Dimensional Resistances And Characterized Geometries,
The Cotter Stick Has Two Level Regions To Encourage The Formwork Striking
Hot Plunge Galvanized Prop That Gives Great Insurance Against Rust
The Nut Has A String Whose Outline Permits Concrete Remains And Dirt To Be Cleared
Construction Shoring System Fortifies The Dividers Of Trenches And Guarantees The Entire Security Of Workings. This New Advancement Supplants The Utilization Of Traditional Shoring, Which Is Awkward To Install And Handle, Specifically For The Trenches Of Restricted Pit.
This System Can Be Installed Within Short Run And Demands No Lifting Equipment